Kona coffee from Hawaii is one of the best kona coffee brand experiences I have ever enjoyed. 100% Kona Coffee Beans are sought after amongst all the coffee varieties in the world, famed for its mouth-watering aromas and deliciously smooth, rich flavor and characteristic rich profile.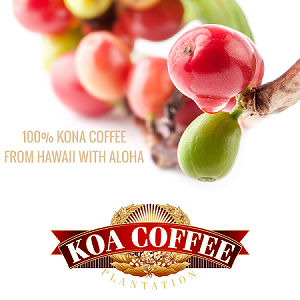 Most of the beans sold as 'Kona' don't live up to the name. True 100% Kona is expensive, so Kona beans are frequently mixed with cheaper beans to produce affordable blends.
I have tried those these blends and thought well that was nothing special, I was probably a victim of a Kona impersonator. Don't let this happen to you. Koa Coffee sells only the highest-grade Kona Beans, direct from the farm, at the best possible price. The Tri-pack includes 3 types of Kona for Variety.
This is the coffee Forbes called Best in America!.
Koa often runs discounts on this deal for new customers, so clicking the links in this article will deliver for the best valued, quality Kona coffee online. Shop all our KOA Kona coffee selection.
The Kona Belt
The Kona Belt is located on the coast of Hawaii's Big Island, where the microclimate is extremely favorable to coffee-growing. The gentle, green slopes are fertile, and the coffee plants are
nourished by both sun and rain in equal measures.
The soil is rich and volcanic, providing the coffee trees with plenty of nutrition. The coffee grown in these conditions has a mellow, smooth but robust flavor profile.
What Is the Best 100% Kona Coffee Brand?
The best of the best comes in the form of the peaberry coffee beans. They have higher moisture content and far fewer imperfections than even Kona Extra Fancy beans.
Hawaiian coffee is divided into eight grade bands, which are:
1.Extra fancy (the highest quality with impressively superior flavor)
2.Fancy (also excellent)
3.No.1 (mixed with a higher grade to create a 100% Kona Coffee at a better price)
4.Kona Select (sold as an affordable blend but not as good as 1, 2, and 3)
5.Kona Prime (sold as an affordable blend but not as good as 1, 2, and 3)
6.Mixed Natural Prime (The lowest quality)
Peaberry beans
Peaberry beans roast beautifully and produce coffee that is smooth, full-bodied and has a bit of a bite! It's no wonder that coffee connoisseurs call Kona peaberry coffee the best of the best.
There is high demand for peaberries, but nature cannot be forced! If you want top-notch Kona coffee, look for peaberry beans and be prepared to pay the price!
We highly recommend getting your hands on a packet of Koa Coffee's Whole Bean Kona Coffee, Peaberry Dark Roast. It's not cheap – but bear in mind you get what you pay for. Splash out and treat yourself to what most fans describe as the best coffee they've ever experienced.Recommendation:
 Tri-Pack Kona Sampler
Save on Kona Coffee when you buy a Triple-pack!
The Tri-Pack Kona Sampler has three varieties of 100% Kona, each with their own unique characteristics and of course from KOA the Best Kona Coffee Brand .
Grande Domaine Kona Coffee

This little beauty is very well known and was selected as a Kona Coffee Cupping Contest Winner because of its amazing quality and balance. The resulting brew is deliciously rich and smooth without being overly bitter.
Private Reserve Kona Coffee
This blend is a mixture of 100% Kona coffee beans from a variety of different grades and farms. The Private Reserve was awarded the title of the "Best in America" by Forbes magazine.
Estate Kona
Sourced from only one small farm on the slopes of the Mauna Loa volcano, this blend mixes the top three grades of Kona coffee together. So you get to experience the full joy of the most moist, flavorful beans combined.
The Koa Coffee Plantation has been in business since 1997. Established and run by the Artukovich family, it was later sold to Kona's Best Natural Coffee – known as Koa Coffee Plantation.
The source coffee plantation rests on the Mauna Loa slopes in Hawaii's "Kona coffee belt".
Today, Koa Coffees is a worldwide sensation produced with top-of-the-line equipment and carefully vacuum-sealed to bring a rich, fresh-roasted aroma straight to you.
Koa coffee is all about the smoothness, full flavor, high-quality and exquisite balance of these offerings.
The Kona Sampler Tri-pack is a great way to try out a few different varieties and would make a fantastic gift for a coffee lover. It also comes at a reasonable price, considering it's premium quality – a fantastic introduction to the joys of Kona coffee.
Final Thoughts
When purchasing Kona coffee, it pays to do your homework. Consider the background and history of the plantations whose products you are considering purchasing.
Well-established Farms, with a tradition of producing high-quality, pure Kona coffees, are the only ones you can trust if you truly seek genuine Kona experience.